Our team is made up of people who believe bringing Zakat to life in the UK as a catalyst for helping individual Muslims and building a thriving, closer community, right where we live. Our approach is single-minded: to make sure every aspect of the Zakat process is monitored and constantly improved.
From helping givers to calculate their Zakat to collecting funds securely to distributing them in a transparent, responsible and effective way, our team is focused on bringing the true potential of Zakat to life in the UK.
You could be the next person to become an NZF trustee and help us achieve our mission of connecting every Muslim in the UK through Zakat. We currently have Trustee roles available. Interested?
Click here
 to find out more and apply.
Iqbal Nasim MBE
Iqbal has led National Zakat Foundation since November 2011, a few months after its inception. He has spoken extensively about Zakat and NZF across the UK, and has also presented to international audiences, notably at the Global Donors Forum and the World Islamic Economic Forum. For his work at NZF, Iqbal was recognised in the Queen's Birthday Honours List 2019 with an MBE for services to Tackling Poverty and Community Development.
Prior to joining NZF, Iqbal worked for over five years in the investment banking industry as an equity analyst. He holds an MA in Economics and Management from Cambridge University and an MSc in Voluntary Sector Management from Cass Business School.
Lucy Bushill-Matthews
Lucy is Director of Operations responsible for Governance and Finance at NZF, supporting the Chief Executive and the Trustees. Before that, Lucy has spent 10 years in International Development in strategy, programmes and marketing, has 10 years of experience as an analyst and economist within major multinational corporations and has been Deputy Chair of Trustees of Linkable, a UK charity. She is author of the book 'Welcome to Islam: A Convert's Tale', has given two TedX talks on faith and has been a regular columnist in lifestyle magazine Emel. Lucy holds an MA in Economics from Cambridge University and an MSc in Health Economics (Distinction). Lucy is a Chartered Management Accountant (ACMA).
Nazia Hassan
Nazia is Director of Communications at NZF and has spent over 14 years as a marketing professional within the commercial and charity industry, leading on strategic brand and marketing activities. Starting her career at Global Radio, she quickly became the brand manager for UK's largest radio stations, Capital FM and Heart FM.
In 2012, she led the digital and affiliate marketing plans for BskyB and later joined Disasters Emergency Committee to lead on their marketing and customer insights.
Nazia holds first class degree in BA in Marketing and Business and has an MSC in Social Cognition, Research and Application from University College London.
Rizwan Yusoof
Rizwan is Director of Services and is responsible for the design, development and delivery of NZF's four core services to Zakat payers and beneficiaries; Calculate, Give, Distribute and Track. His work includes creating the systems and processes to constantly increase the efficiency, scalability and impact of NZF's grantmaking programme, as well as enhancing its services to payers to offer greater control, traceability and connection to their payments.
Before NZF, Rizwan gained several years of experience in delivering programmes to empower disadvantaged communities through education and skills, in the private, public and social sectors. Rizwan has gained a bachelor's degree in Network Computing from Oxford Brookes University and an MSc in Grantmaking, Philanthropy and Social Investment from Cass Business School's Centre for Charity Effectiveness.
Sultan Choudhury OBE (Chair)
Sultan is the former CEO and Director of Al Rayan Bank. He has over 20 years' professional and financial services experience in the UK, and is a member of various Community and Government advisory groups. He has also contributed significantly to developing Islamic Financial Services in the UK.
Sultan was a founding member of UKIFS (UK Islamic Finance Secretariat), a body promoting the UK Islamic Finance industry. He previously held roles at Charles Schwab Europe, Barclays Private Bank and Deloitte. Sultan holds a BA (Hons) in Economics and Econometrics and an MBA.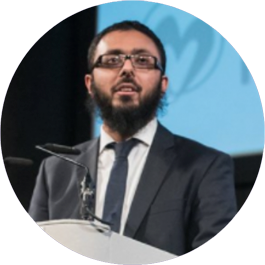 Azim Kidwai
Azim Kidwai is the CEO of Mercy Mission UK. He joined Mercy Mission in 2009 as the Chief Executive and has led its growth from a new community organisation to an international incubator. He's overseen the launch of Ramadan TV, National Zakat Foundation, and Charity Right and is now leading the Muslim Foster Project. He also serves as a board member on several UK registered charities and is a special advisor on Islamic philanthropy to the United Nations Relief and Works Agency.
Muhammed Yesilhark
Muhammed is an investor and philanthropist. He is currently the Founder and Chief Investment Officer of Q2Q Capital, a Dubai-based investment firm. Muhammed was Head of European Equities at Carmignac, one of Europe's leading asset managers, and before that was an analyst, trained in corporate finance and equity capital markets. He studied Finance and Management at the European School of Business and attained a first-class honours degree jointly from Reutlingen University of Applied Science and Lancaster University.
Saima Ashraf
Councillor Saima Ashraf has been Deputy Leader of Barking and Dagenham Council since 2014.
As Cabinet Member for Community Leadership and Engagement is responsible for with responsibility for empowering the community in the wake of the Covid pandemic. This includes tackling inequalities and engaging different faiths and communities.
In recognition of her long-standing work in the community, Councillor Ashraf won the Community Champion Award at the 2020 Local Government Information Unit (LGIU) awards.
Anisa Hanif
Anisa is a corporate and commercial lawyer with ten years' experience in private practice – she specialises in complex, often cross-jurisdictional, business transformation projects, including operating model restructurings, establishment of new business organisations, mergers & acquisitions, joint ventures and advising on corporate governance matters, in both the profit and not-for-profit sectors and often in complex stakeholder environments.
Anisa studied Law at Oxford University before completing her training contract at Slaughter and May. She joined EY in 2015 and is a Director in the International Business Re-organisations practice, which was awarded Tier 1 status in the Legal 500.
Dr Shorful Islam 
Dr Shorful Islam is the Founder of Subatomic Analytics, a data analytics consultancy. He is also the Chief Product & Data Officer at OutThink, the world's first predictive human risk management solution, and also serves as Chief Data Scientist for Tribal Worldwide leading its Data Science Practice.
He has worked at, and advised, some of the world's largest organisations on data strategy, data analytics and data science. His previous roles included, Managing Director and co-founder at Stream Intelligence (a Data Science Consultancy based in London and Jakarta), Managing Partner, Data and Insights, at Wunderman, Head of Data at adam&eve/DDB, and Head of Business Information and Customer Data Strategy at ITV. He has also worked across the NHS and local government
Dr Shorful started his career as a lecturer after completing his PhD in Psychology, his dissertation focusing on predicting accidental injuries in children.