Our team is made up of people who believe bringing Zakat to life in the UK as a catalyst for helping individual Muslims and building a thriving, closer community, right where we live. Our approach is single-minded: to make sure every aspect of the Zakat process is monitored and constantly improved.
From helping givers to calculate their Zakat to collecting funds securely to distributing them in a transparent, responsible and effective way, our team is focused on bringing the true potential of Zakat to life in the UK.
You could be the next person to become an NZF trustee and help us achieve our mission of connecting every Muslim in the UK through Zakat. We currently have Trustee roles available. Interested?
Click here
 to find out more and apply.
Dr Sohail Hanif
Dr Sohail became National Zakat Foundation's Chief Executive in November 2021. Prior to this, he held the position of BA Manager and Lecturer at Cambridge Muslim College. From 2015-17, he was NZF's Head of Research and Development and has also held the position of Head of Sciences at Qasid Arabic Institute in Amman.
He brings to the role expertise in Islamic law, having studied extensively with traditional scholars, and holds a PhD from Oxford University. His PhD thesis, which explores Islamic legal epistemology, won the 2019 prize of the British Association for Islamic Studies. He has lectured widely on Islamic law and Qur'anic studies in academic, public and traditional settings.
In his new role, Dr Sohail succeeds Iqbal Nasim MBE, who led NZF from 2011-2021.
Firoz Patel
Firoz Patel is the newly appointed Chief Strategy & Transformation Officer at NZF, previously the founder and CEO of Childreach International.
With over 15 years of experience in international commercial and non-profit sectors, he specialises in strategy, partnership development, and income generation.
Co-founder of Quantum5, a Global Sustainability Consultancy, Dr. Patel has received accolades such as the Stars Foundation Impact Award.
He serves on multiple International Leadership Boards and is a founding Board member of the Commonwealth Study Conferences Global Alumni Association
Dr. Patel holds an Honorary Doctorate from the University of East London and is an Alumni of the Duke of Edinburgh's Commonwealth Study Conferences.
Saqhib Ali
Saqhib serves as our new Chief Financial Officer. He is a social impact fintech founder of ZeroPA, with over 30 years finance background, including 4 years as a banker with Lloyds Banking Group and 2 1/2 years as a Secondary School Teacher. He has been a NHS Non Exec for over 8 years. He is a Director of Bedford Credit Union.
Saqhib is actively involved in his community, a new town of 3,000 homes near Bedford, as Chair of the Parish Council, Chair of the Village Hall and Editor of a community newsletter.
Sultan Choudhury OBE (Chair)
Sultan is the former CEO and Director of Al Rayan Bank. He has over 20 years' professional and financial services experience in the UK, and is a member of various Community and Government advisory groups. He has also contributed significantly to developing Islamic Financial Services in the UK.
Sultan was a founding member of UKIFS (UK Islamic Finance Secretariat), a body promoting the UK Islamic Finance industry. He previously held roles at Charles Schwab Europe, Barclays Private Bank and Deloitte. Sultan holds a BA (Hons) in Economics and Econometrics and an MBA.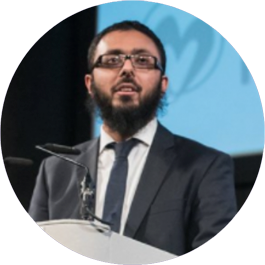 Azim Kidwai
Azim Kidwai is the CEO of Mercy Mission UK. He joined Mercy Mission in 2009 as the Chief Executive and has led its growth from a new community organisation to an international incubator. He's overseen the launch of Ramadan TV, National Zakat Foundation, and Charity Right and is now leading the Muslim Foster Project. He also serves as a board member on several UK registered charities and is a special advisor on Islamic philanthropy to the United Nations Relief and Works Agency.
Muhammed Yesilhark
Muhammed is an investor and philanthropist. He is currently the Founder and Chief Investment Officer of Q2Q Capital, a Dubai-based investment firm. Muhammed was Head of European Equities at Carmignac, one of Europe's leading asset managers, and before that was an analyst, trained in corporate finance and equity capital markets. He studied Finance and Management at the European School of Business and attained a first-class honours degree jointly from Reutlingen University of Applied Science and Lancaster University.
Anisa Hanif
Anisa is a corporate and commercial lawyer with over ten years' experience in private practice – she specialises in complex, often cross-jurisdictional, mergers & acquisitions, joint ventures and operating model restructurings.
Anisa studied Law at Oxford University before completing her training contract at Slaughter and May. She is now Associate General Counsel at McKinsey & Company where she advises on M&A activity for the firm in EMEA.
Saima Ashraf
Councillor Saima Ashraf has been Deputy Leader of Barking and Dagenham Council since 2014.
As Cabinet Member for Community Leadership and Engagement is responsible for with responsibility for empowering the community in the wake of the Covid pandemic. This includes tackling inequalities and engaging different faiths and communities.
In recognition of her long-standing work in the community, Councillor Ashraf won the Community Champion Award at the 2020 Local Government Information Unit (LGIU) awards.
Dr Shorful Islam 
Dr Shorful Islam is the Founder of Subatomic Analytics, a data analytics consultancy. He is also the Chief Product & Data Officer at OutThink, the world's first predictive human risk management solution, and also serves as Chief Data Scientist for Tribal Worldwide leading its Data Science Practice.
He has worked at, and advised, some of the world's largest organisations on data strategy, data analytics and data science. His previous roles included, Managing Director and co-founder at Stream Intelligence (a Data Science Consultancy based in London and Jakarta), Managing Partner, Data and Insights, at Wunderman, Head of Data at adam&eve/DDB, and Head of Business Information and Customer Data Strategy at ITV. He has also worked across the NHS and local government
Dr Shorful started his career as a lecturer after completing his PhD in Psychology, his dissertation focusing on predicting accidental injuries in children.
Sheikh Abu Laila
Sheikh Abu Laila is a technology entrepreneur and innovator who helped launch startups, scaled mid-sized businesses and transformed some of the largest publicly listed corporations. He generated over £200m in incremental revenue for some of the best-known global brands including Microsoft, lastminute.com, Coca-Cola, Unilever, UCAS, Virgin Trains, Pfizer, Tesco, Marks & Spencer and Avis through generation of new revenue streams, product development, new lines of business, and monetising intellectual property & thought capital. He specialises in disrupting business models through digital, data and technology transformations as a C-level Executive and Board advisor. Sheikh Abu Laila received his ijazah in Qur'an from Sheikh Baha in Egypt with an isnad including Abdullah ibn Ma'sud (ra). Semi-retired now, he engages in public speaking and teaching courses on Ulum-ul-Quran, Usul-ul-Fiqh, Asbab-ul-Nuzul, Tafseer, Seerah and Islamic Finance.
Ashar Khan 
Ashar is currently the Chief Data Officer of a leading FTSE 50 renewable energy company. Over the last 10 years his previous roles included working as the Chief Technology Officer, Business Transformation Director, and Head of IT Strategy.
Prior to this he spent almost 20 years as a consultant with Accenture and Capgemini across a range of industries from Energy & Utilities, Banking, Public Healthcare, and Pharmaceuticals. Ashar specialises in implementing technology and business change programmes and has spent a significant amount of time living and working outside the UK (in Europe, the USA, the Middle and Far East).
Ashar is a TOGAF9 certified architect and is a Member of the IET and registered with the UK Engineering Council for 30 years.
Mufti Amjad Mohammed
Mufti Amjad M. Mohammed is a British Islamic Scholar. He is Chief Shariah Officer for National Zakat Foundation Worldwide and conducts monthly Shariah and Quality audits of NZF UK. He is dean and head scholar at the British Olive Foundation, an umbrella organisation which oversees multiple projects and organisations including the Institute for the Revival of Traditional Islamic Sciences (IRTIS). He has written and lectured extensively on fiqh, Shariah, jurisprudence for Muslim minorities in the West, Muslim education within the West, usul-al-fiqh, and Islamic finance. He sits on multiple Sharia and fatwa boards and holds advisory positions at several financial institutions pursuing Islamic banking or finance.